Sleepytroll Baby Rocker
Scandinavian Design | Global Patent
---
Does your baby wake up as soon as the stroller stops? Let Sleepytroll lend a hand. Sleepytroll Rechargeable Baby Rocker gives you and your baby a well-deserved break.
Fits All Strollers
Built-in Rechargeable NiMH Battery (no lithium)
Fully charged in just 2 hours
Built-In Motion and Sound Sensor
Adjustable Speed Settings
Most powerful baby rocker on the market
Free and quick international shipping

We ship your order from our warehouses in Sweden or the U.K
Sleepytroll needs to be mounted vertically. Mounting at an angle will reduce the lifespan of the motor and will void the guarantee.

Remember to tighten the ladder strap tight using the big lever. Only the stroller should rock, not the Sleepytroll itself.

Read more about our awards here
Want to use it for cribs?
Make sure to check out our attachments that allows you to use the Sleepytroll on your crib.
See how versatile the Sleepytroll Baby Rocker is here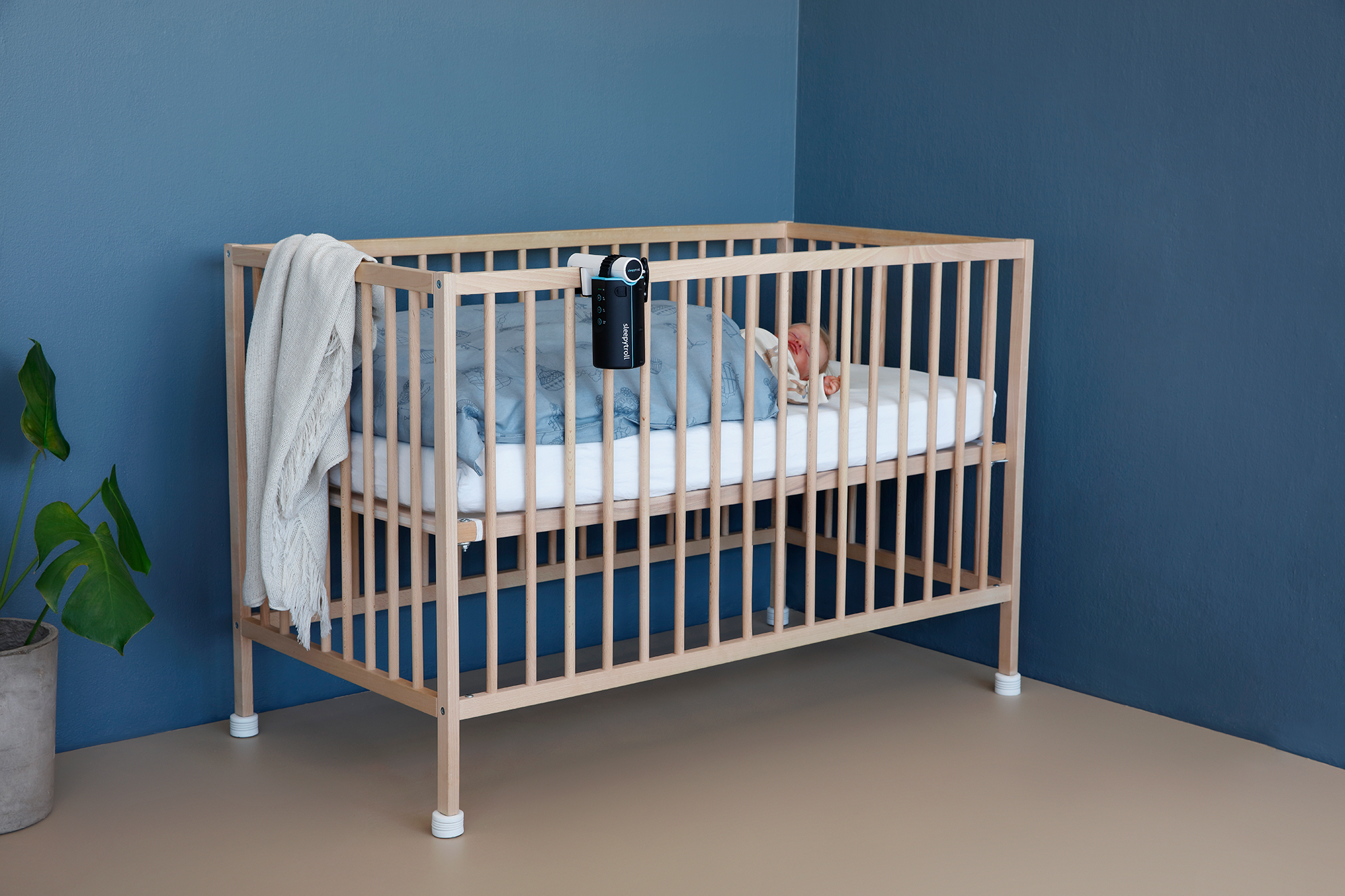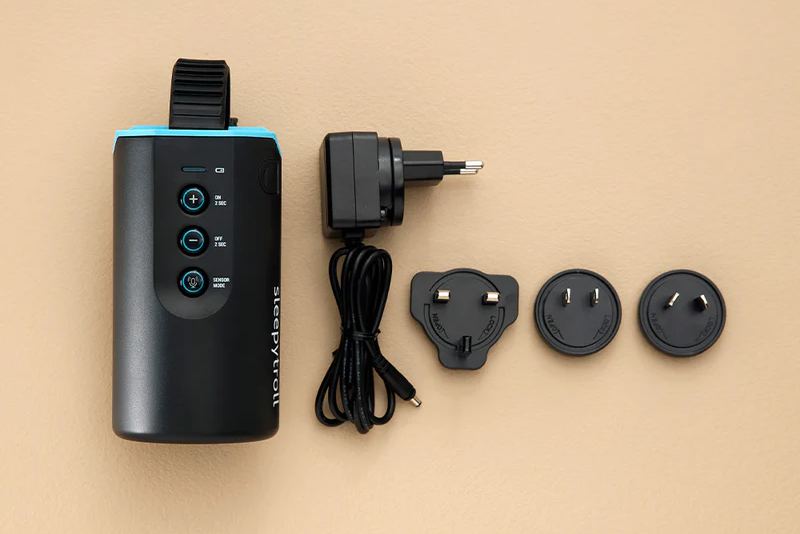 What's included
With the purchase of a Sleepytroll baby rocker you will get
1 x Sleepytroll smart Baby Rocker
1 x International charger
1 x User guide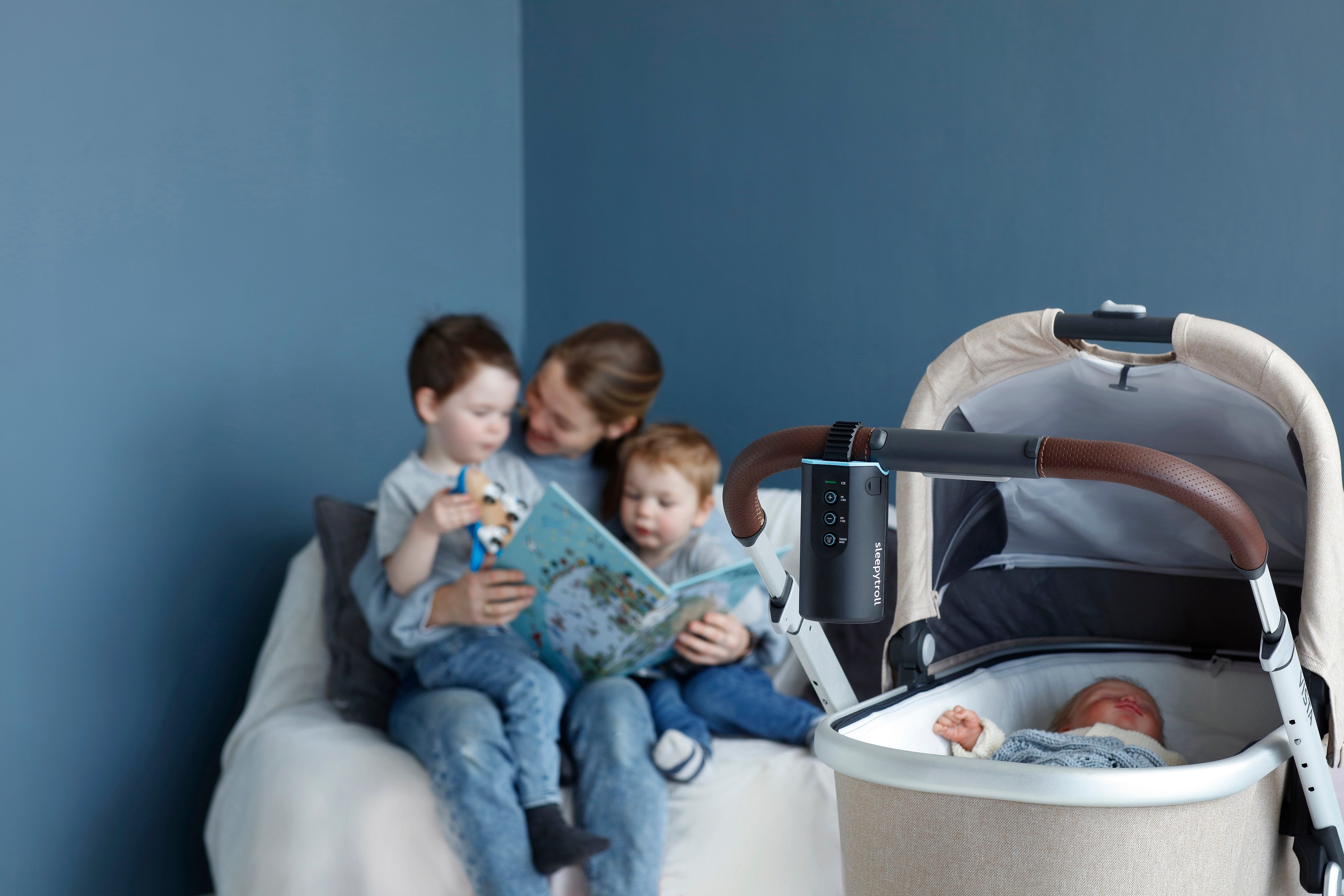 We take safety seriously
Sleepytroll is safety tested by TÜV, one of the world's leading testing service providers.
Complies with CE and FCC regulations regarding exposure to electromagnetic fields and is ROHS (Reduction of Hazardous Substances) compliant. Sleepytroll uses safe NiMH batteries (not lithium). Sleepytroll can safely be taken on a plane.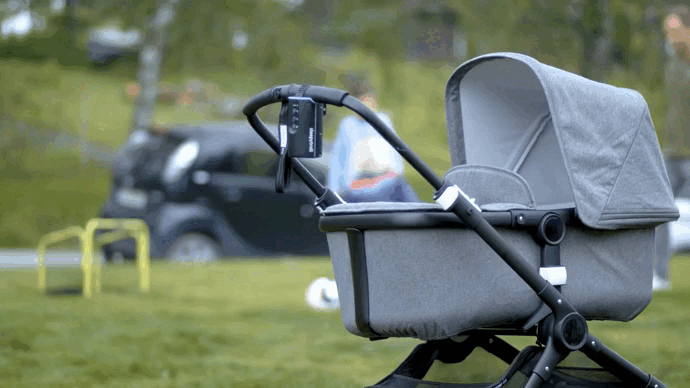 Easy to use
Transform your stroller into a rocking oasis for your little one with Sleepytroll baby rocker. Thanks to the integrated strap, you can easily mount it onto any stroller, providing your baby with a comfortable and soothing rocking motion.
Parents love Sleepytroll
Join the movement of 40.000+ customers who have experienced the magic of Sleepytroll
This product is rated 4.9 of 5.0 stars.
It has received 183 reviews.
Our story
Let our founder Ståle tell you about how he invented Sleepytroll to help him in his day-to-day life as a father of three.
Read more
ㅤ
Rehargable NiMh (Can be brought on airplanes)
ㅤ
IPX2 - Light rain / Showers
ㅤ
International: US, UK, AUS, EU
This product is rated 4.9 of 5.0 stars.
It has received 183 reviews.
Nap time made easy!
I really enjoyed using the Sleepytroll rocker! It has made our nap time sessions super easy without the hassle of rocking our baby to sleep and it really does cut down the time spent to get our baby to nod off due to the soothing movements. I love how clever the sensor setting is where it detects the baby is moving so it knows when to stop rocking. The only downfall I would say is that the sensor can be super sensitive that once it stops because the baby is sleeping and then you pass it, it begins rocking again which sometimes can wake the baby up due to the sudden movement. Easy to set up, and can be used on all carriers and cots, I would recommend it!
Thank you for the great review, Ashle! So happy to hear that you like our Sleepytroll.
PS: did you know that you can adjust the sensitivty of the sensor mode?
1) When in Sensor Mode, hold the sensor mode button for 5 seconds until the battery indicator starts blinking to indicate adjustment mode (the indicator color shows the sensitivity level).
2) Press + to increase Sensitivity or - to decrease. Sensitivity colors: Lowest = Red, Low = Yellow, Medium = Green, High = Light Blue, Highest = Blue
3) Hold the button for 5 seconds to leave Adjustment mode.
Hope this helps! Feel free to reach out to our support if you have any other questions at support@sleepytroll.com.
Best regards, Anne from Sleepytroll
Great rocker for putting little one to sleep
This is a great little rocker invention that works wonders. It is a very compact size which fits perfectly on the buggy. The rocking motion puts my little one to sleep fast and easily and is a great comforter. The design of this product is very good, looks and feels like the quality product it is and very compact in size. Colours are a great contrast with the black colour and the blue/green. Sensor function works really well. Very handy that it is rechargeable so no more having to worry about buying any batteries. Comes with many plug adaptors so can be charged even when you take it on holiday. The strap for attaching the device is made from a thick rubber and feels very durable and strong, has grooves in it so can easily tighten to the desired size. Looks good on the buggy and have even been asked by people what it is and have happily explained and recommended this. Being my first sensor controller baby rocker I was very impressed and surprised at how efficient it is at putting babies to sleep. Would definitely recommend to family and friends. This would make a fantastic baby gift. Would rate this a solid 9/10 as is a very premium quality made product.
Thank you for the great and thourough review! So happy to hear that Sleepytroll helps your little one :)
Anne from Sleepytroll
Definitely smart and very useful!
For the part couple of weeks I have been able to use the smart baby rocker and can definitely say that it's a huge help, like an extra pair of hands!
My son will not sleep long unless in my arms or being rocked in a pram. So this is exactly what I needed! I can now get some of my life back; get some house work done and eat some food without holding him 24/7! The smart rocker can actually sense when a baby becomes restless via sound detector and automatically starts rocking the pram!
It's very easy to set up and install. Simple on/off button and adjustable speed setting, and rechargeable battery.
The rocker looks very smart and compact. A few of my friends thought it's a smart looking speaker seeing it!
Its very easy to attach and detach. It has a strong strap to attach to the pram handle. You can use it on cots too but I haven't tried it yet.
I'd say that the only downside is the weight as it's surprisingly quite heavy so I wouldn't take it with me to a restaurant or a weekend trip. But then it has to be heavy to be able to rock the pram.
Thank you for the kind words, Magda! Happy sleeping!
Anne from Sleepytroll
Brilliant baby product
The sleepytroll has made naps so much easier than with my older children. It helps getting my daughter to sleep without having to walk her around for ages - and kicks in again if she is waking up. I would very much recommend to all new parents!
Love this
Great product great customer service. Would recommend.